I just released
Maximum Recursion Depth, or Sometimes the Only Way to Win is to Stop Playing: The Karmapunk RPG (Ashcan Edition)
on itch.io for the
Eclectic Bastionjam
. It's a game based on the Into the Odd / Electric Bastionland ruleset, but with a unique setting about the Numberless Courts of Hell and superpowered people rescuing Poltergeists from a broken bureaucracy.
It's hard to do the setting and game concept full justice, or at least I've struggled to do so, in this "ashcan" edition lacks some of the context that I would ultimately like to provide.
I really really badly want to do something bigger with this, so please, if you would have any interest in seeing this as a fully fleshed-out product, please let me know! Any constructive criticism or general support would be greatly appreciated!
To help provide some of that context, I'm going to include an appendix-N here. It is by no means exhaustive, and is in no particular order. I will almost certainly edit this post a million times as more things come to me. But hopefully, this will give people a general idea.
For more on
Maximum Recursion Depth
, follow that link to see previous posts.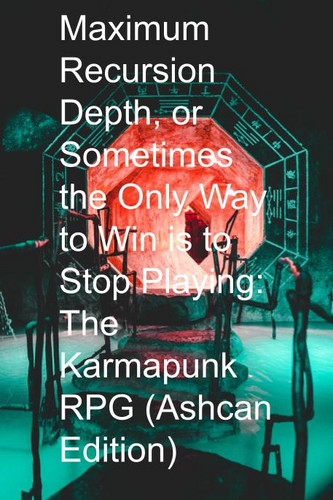 Grant Morrison: Doom Patrol, Invisibles, basically everything else he's done
Neil Gaiman's Sandman and DC Vertigo more broadly
The Matrix
Journey to the West
Chinese mythology (Buddhism, Taoism, Confucianism, indigenous beliefs)
Tenra Bansho Zero
Bojack Horseman
The Good Place
Persona 3-5
New York City